The Ultimate Guide to Choosing the Right Engagement Ring

Designing the perfect engagement ring for your partner
Engagement rings come with a wide variety of choices — including metal, width of the band, ring design, and settings. Even so, finding the engagement ring that's perfect for your partner can be challenging if you're looking to buy it as is from a store. While there are certainly some beautiful rings out there, it's all in the details.
Bespoke solutions, where you design your own ring, is the best option if you can't find a ring that matches your needs. By designing your own, you have full creative control to create a ring that reflects classic, traditional aesthetics or, alternatively, a modern style that's completely unique. With the guidance of a diamond expert, you can create a one-of-a-kind engagement ring that expresses your love and commitment to your partner.
Key steps in the process include research, setting a budget, and choosing the design elements. Start by setting a time frame for research, consultation with your diamond expert, design, and adjustments.
Then you'll want to set a budget, keeping in mind custom-design rings tend to cost more than collection pieces due to more labour hours. Think about how much you'd like to budget for the ring, accounting for things like diamond size and quality, intricacy of design, and choice of metal. Then choose the metal, diamond cut, and pick a designer, and you'll be on your way to getting started.
Find out more about designing the perfect engagement ring for your partner by checking out this article.
Things to consider: metal, setting, size, band thickness, and insurance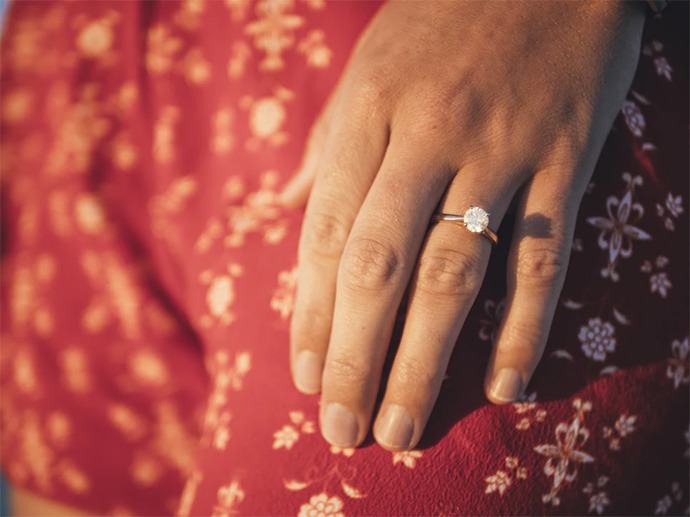 As you get started with the design process for the engagement ring, you'll need to take into account a few major considerations. You'll need to choose a metal type, a setting, ring size and band thickness. You'll also want to think about purchasing insurance for your ring.
(i) Engagement ring metal guide
The type of metal used for your ring is one of the top decisions you'll make during the design process. You'll want to choose a type of metal that reflects your partner's style, lifestyle, and preferences. Each type of metal has its own advantages and potential limitations, so think about what closely matches you and your partner's likes and preferences. Also, think about the cut and quality of the diamond you'll be using. For example, white metals like white gold and platinum complement high-clarity white diamonds. For mid-range diamonds, which tend to have a more dull appearance, a warmer metal like gold could be the better option.
Shiny finishes – Metals with shiny finishes, such as silver, white gold, platinum, and palladium, tend to be more popular for engagement rings.
Warmer metals – Warmer metals, such as yellow gold or rose gold, are usually used for wedding bands. However, yellow engagement rings made from yellow gold or rose gold have become a growing trend.
Platinum – Platinum is a popular metal for engagement rings. As one of the most precious metals out there, platinum comes with a higher price tag. Low maintenance and suitable for those with sensitive skin, platinum is a durable, non-fade option that works beautifully with diamonds.
White gold – White gold can make a beautiful, flattering look to your choice of diamond, and it could be harder than 24-carat gold.
Palladium – Palladium is less commonly use for engagement rings, but it's as appealing as platinum and offers durability and compatibility with high-quality diamonds.
Read more about engagement ring metal and your options in our guide to engagement ring metals.
(ii) Choosing ring size and band thickness when buying an engagement ring
Ring size and band thickness are two central design elements you'll need to decide on with your engagement ring. While they might seem less relevant, they're key considerations because they affect the setting and stone. The thickness of the band and the size of the ring can also have a subtle effect on the overall look of the ring.
Standard – The standard size for engagement rings is about 2.5 millimetres.
Wide – Wide designs can exceed 3 millimetres.
Thinner– Thinner engagement rings range around 1.5 to 2 millimetres in thickness.
Thin bands are lighter to wear and they use fewer materials and ring mounts, which could mean better value for money. They also offer a more delicate look and so could be suitable for thinner fingers and smaller hands.
Thicker bands, usually over 2.3 millimetres, can feel sturdier on the finger. They're also more durable. If you have a large stone in mind, you might want to opt for a thicker band to accommodate the stone. However, make sure your centre diamond is the right shape and size to match the thicker band. Otherwise, the proportions will be off.
Try to have you or your partner's finger measured by your diamond expert so you have an accurate ring size to work with as you design the ring. If you're looking to surprise your partner, try tying a knot to measure her finger size when she's asleep so you can get her ring size without her knowing.
To read more about ring size and band thickness for engagement rings, read our in-depth guide here.
(iii) Settings: solitaire versus three stone
Once you've settled on the type of metal, diamond, band, and design, you can start thinking about the type of setting you'd like for the engagement ring. In other words, the ring setting should be the final thing you decide on.
So what's the ring setting? The ring setting on your engagement ring is how the diamond will be set and attached to the band. If you haven't designed a ring before, you might assume precious stones are always attached in the same way to the band. This is incorrect. The way in which the diamond is attached is a key stylistic consideration as it determines how your ring will look.
Setting options for your engagement ring include solitaire and three stone, while other types of ring settings could also be used.
Solitaire – The solitaire ring setting, featuring a single stone, is one of the most popular types of settings, possibly because the design naturally draws the eye to the focal point: the centre (and the precious stone that's placed there). Elegant and classic, this is a simple design that can be dressed up with extra stones in the band.
Three stone – The less conventional choice for engagement rings, the three stone setting provides variety and personality as you can change the shape, colour, and cut of the stones used.
Channel – The channel setting features side diamonds placed side by side and embedded into the band, all around the band. This setting can be used in wedding bands or incorporated into your engagement ring design.
Pave – A pave setting is like the channel setting but the band is made to look like it's made of diamonds, as the stones are held in place by claws and paved in between.
Sidestone – The side stone setting features a centre diamond with smaller diamonds on each side. The smaller stones could be different colours and shades. This setting can make the centre diamond look bigger than it is.
Bezel – Bezel settings have the diamond indented into a metal frame, and this type of setting is a great option if you want to protect your diamond from getting nicked or scratched. A partial bezel setting leaves the sides of the stone uncovered.
Cathedral – A cathedral setting uses arches to set the diamond well above the band, and this type of design can make for a striking, elegant engagement ring.
Tension – A tension setting holds the diamond in place with two prongs from either side. The prongs protrude from the band and the design allows you to see almost the whole diamond.
Find out more about beautiful setting options for your engagement ring in this guide to diamond ring settings, and this guide to understanding the difference between solitaire and three stone settings.
(iv) Engagement ring insurance
Getting engaged and having your ring designed is a special experience. So naturally, you'll want to protect the value and effort you've put into your engagement ring. You'd probably prefer not to think about the possibility of it being damaged, stolen, or lost — but insurance could give you peace of mind you have the funds to replace it if the unexpected does happen.
Whether your ring costs $500 or $50,000, insurance safeguards the value you've invested in the ring. You could insure your ring by adding it to your home and contents insurance or take out dedicated jewellery insurance for it.
When – Arrange for insurance to start as soon as you take ownership of the ring, and keep a record of your purchase so you have evidence of the value on paper.
Certificate – Documentation is essential for avoiding underinsurance. You'll also want to ask for a diamond certificate from your jeweller, especially if the centre stone is half a carat or larger. The certificate lets you track down your ring if it's ever stolen. The certificate will detail the colour, clarity, cut, and carat weight.
Appraisal – Have your ring formally appraised and have it re-appraised every two to three years so you can recover the current cost of the ring if you need to make a claim. You can use an appraisal report as evidence for any claims you need to make, and avoid the common pitfalls of underinsurance.
Research – Research different insurance policies and ask about claims, scope of coverage, records required, and cost of insurance. A ballpark for annual insurance premiums is 1% to 2% of the value of the ring.
To find out what you should know before buying insurance for your engagement ring, read our guide on insurance here.
Trends and inspiration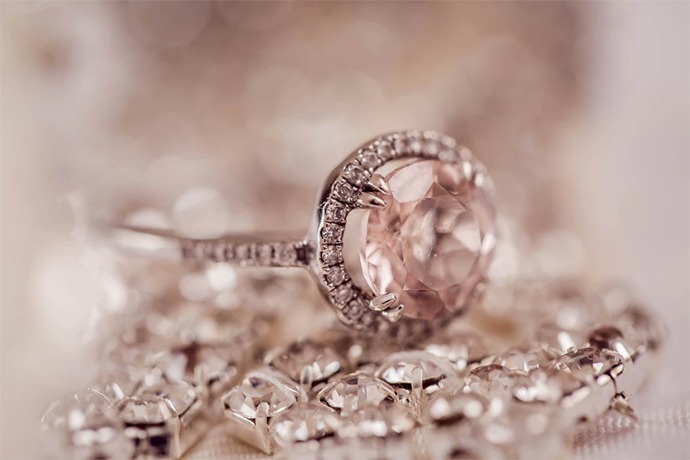 Get creative and inspired by exploring at some of the hottest trends in engagement rings as you settle on a design. Consider you and your partner's preferences, lifestyle, and budget as you weigh up the different design possibilities.
(i) Celebrity engagement rings to inspire you
Prince Charles proposed to Lady Diana Spencer with a blue sapphire and diamond halo ring. The ring, while departing from tradition in engagement ring design, was surprisingly not custom made but available as a collections piece from Garrard's. Later, Princess Diana's son Prince William would propose to Kate Middleton, the Duchess of Cambridge, with the same ring.
Pop star Beyonce's stunning 18-carat ring features an emerald-cut diamond set on a platinum band, and the striking design is certainly a design inspiration even if not all of us has the budget for a similarly sized centre stone.
Hollywood icon Elizabeth Taylor was presented with an emerald-cut design ring by Mike Todd, while reality TV star Kim Kardashian was given a 15-carat cushion-cut diamond by Kanye West.
Discover more engagement rings from celebrities like Lady Gaga, Angelina Jolie, and Natalie Portman in our article on beautiful celebrity engagement rings here.
(ii) Hottest trends in engagement ring design
As in fashion, new and exciting trends are driving the engagement ring market. With the variety of designs out there, you'll likely be able to find or create the perfect design for you and your partner.
A top trend at the moment is the open ring with two stones. Featuring an open band at the top and one gemstone at each end, it's a design that combines classic design with a modern variation for a striking look.
Another trend to consider is the return to Hollywood-era cushion cuts. Cushion cuts border between princess and round-cut diamonds, for the best of tradition and simplicity. This type of cut is flattering for any type or size of finger.
An exciting trend to take note of is brilliant engagement bands. Instead of the solitaire or three-stone design, some people are opting for an engagement band set with many smaller stones for a unique, modern look.
Read about more top trends in engagement rings – from geometric halos and oval inspired diamonds to pear cuts and v-shaped bands – in our guide to the hottest engagement ring trends of 2018.
Frequently asked questions about engagement rings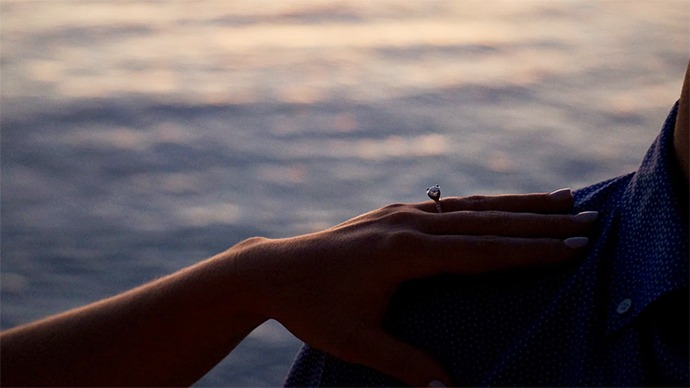 If you're choosing an engagement ring, chances are you haven't done it before. A bit of research and getting to know some of the top frequently asked questions can help with the decision process.
(i) FAQs
Some people wonder why diamonds are traditionally used for engagement rings. The answer — because diamonds have, over hundreds of years, come to symbolise love and fidelity. Another frequently asked question is about setting. Solitaire settings and three stone settings are popular, but you can customise your setting or draw inspiration from the different trends that are out there.
You'll be glad to you don't have to start from scratch. If you find pre-designed or collection rings that appeal to you, you can opt for that instead of designing your own. At the same time, you can have a unique design made for you if you prefer. Custom rings can take between three to six weeks to create.
Find the answers to frequently asked questions about engagement rings – from best metal to alternatives to diamonds – in our guide here.
(ii) How much should you spend on an engagement ring?
One of the most frequently asked questions about engagement rings is probably how much you should be spending on your ring. You want something special for your partner and your relationship, and thinking about costs can make you feel like you're being too practical – or even a cheapskate – about an important romantic heirloom. However, your budget is an important deciding factor, and basing your choice on price is important and sensible.
A general rule of thumb might be three months' salary, which might average around $20,000 for Australians. Everyone's different, so your budget might be more or less than this ballpark figure. What's certain is $20,000 will buy you a stunning ring and having a generous budget will allow you to be flexible with the design.
Whatever you're budgeting, know your limit and figure out your partner's expectations. She might be expecting something simpler than you might think, or she might consider it an important heirloom to be passed down to future generations. Focus on value for money, and talk to a diamond consultant about your options.
Read more about how much to budget for your engagement ring here in our guide on engagement ring costs.
Popping the question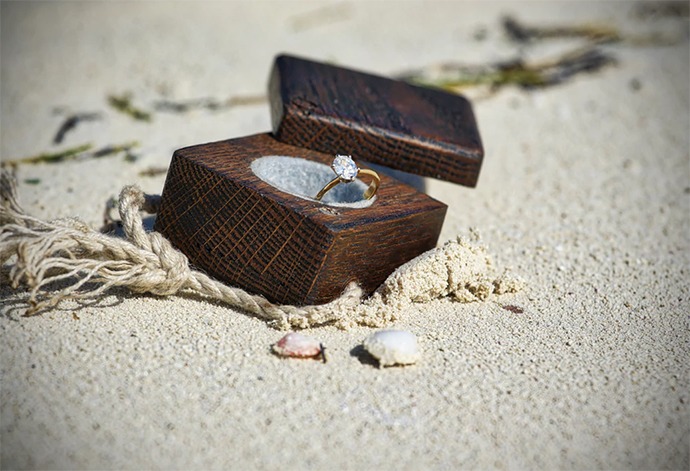 Of course, creating a beautiful engagement ring only one part of your engagement. Popping the question is probably the hardest part once you've had your engagement ring created. Finding the right place to ask your partner and planning the proposal in advance will ensure it goes as planned.
(i) Guide to achieving the ultimate proposal
While your proposal could be a huge success if you decide to do it spontaneously, you're probably thinking about planning it ahead. Given it's one of the most important moments in your life, you'll want to have the details worked out beforehand. Some of the best tips include getting their parents' blessing and ensuring you have the engagement ring ready.
Parents' blessing – Obtaining your partner's parents' blessing might sound old fashioned, but if your partner would prefer you have his or her parents' blessing beforehand, you should get it (secretly) before you propose. This way, you won't be surprising or possibly hurting the future-in-laws after you've proposed.
Engagement ring – You should start organising the engagement ring a few months before the proposal. Try to work out what your partner would like in terms of design, or ask them directly if your partner already knows you'll be proposing. Check whether they like one feature stone or a few, diamonds along the band, or a gold band. If you want to keep it a surprise, ask family and friends for advice.
Location – Of course you'll want to propose in the right place. We're fortunate in Australia as we have a long list of beautiful destinations that are ideal places to propose. Consider whether your partner would prefer a public or private setting. Getting away to an interstate destination for a few days could be an ideal way to propose.
Practice – Rehearse what you want to say. Take time to think about what you'd like to express in your proposal speech, and try verbalising it in the shower, in front of a mirror, or even to your dog. Verbalising it will make it sound natural, and rehearsing it ensures you cover everything you want to say to your partner – even if you're feeling nervous.
Make sure the proposal moment is about your partner, their interests, and favourite things and activities. Choose a setting that your partner would like. Work out how to time it right, and take measures to keep it secret so it's a surprise when it happens (if that's how you're planning it). You'll want to capture the moment, so you might want to hire a photographer or set up a camera at the location so you have photos and videos of the special moment.
For more of the best tips on achieving the ultimate proposal, check out our guide on popping the question here.
(ii) Best places to get engaged in Australia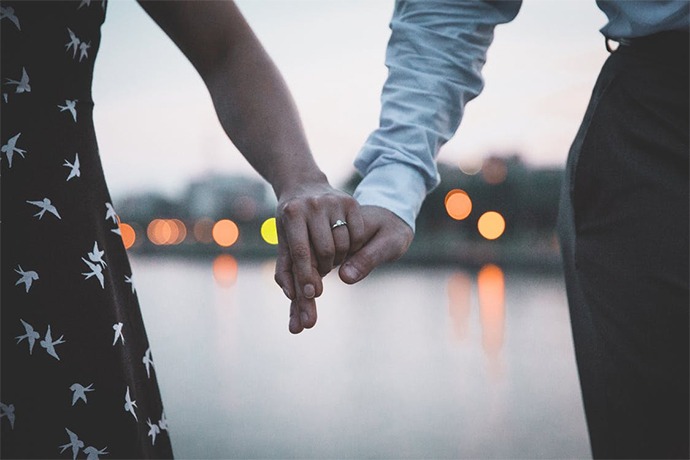 Australia is filled with stunning natural sites, dramatic landscapes, and awesome cityscapes that serve as perfect backdrops for your proposal.
In New South Wales, you could get engaged in a helicopter while flying over the spectacular Sydney Harbour. If out of the city is more your style, try the Blue Mountains, the Hunter Valley, or the South Coast for some beautiful natural landscape.
In Victoria, you could propose at sophisticated city locations like highly acclaimed restaurant Vue De Monde, which offers striking views of the city. Or you could get engaged while looking over the 12 Apostles on the Great Ocean Road, or during a romantic parkland walk in the Royal Botanic Gardens.
In Queensland, you'll be spoilt for choice with locations like the Great Barrier Reef and the Whitsundays and Noosa Heads. Or how about a romantic getaway in South Australia, Tasmania, or Western Australia, with beautiful destinations like the Barossa Valley, Wineglass Bay, and Cable Beach to choose from? Uluru in the Northern Territory is one of the most recognised places in Australia, and it could make the perfect location for your proposal. If you're in the ACT or holidaying there, you could propose during a hot air balloon ride over the picturesque national capital.
Get more ideas on where to get engaged around Australia in our guide to the top 25 top places to get engaged in the country here.
With the information in this guide, you're ready to start creating the right ring and planning your proposal. Working out the details, choosing the right engagement ring, and putting thought into your proposal will turn your proposal into a special, treasured moment in your life.
If you don't already have a ring, why not explore Australian Diamond Brokers' beautiful range of engagement rings? We have a stunning collection of rings that can be purchased as is, or we can also assist you with a unique design from scratch. Contact us today for more information about how we can work with you to find the right ring or to create a one-of-a-kind engagement ring.