Top 10 Celebrity Engagement Rings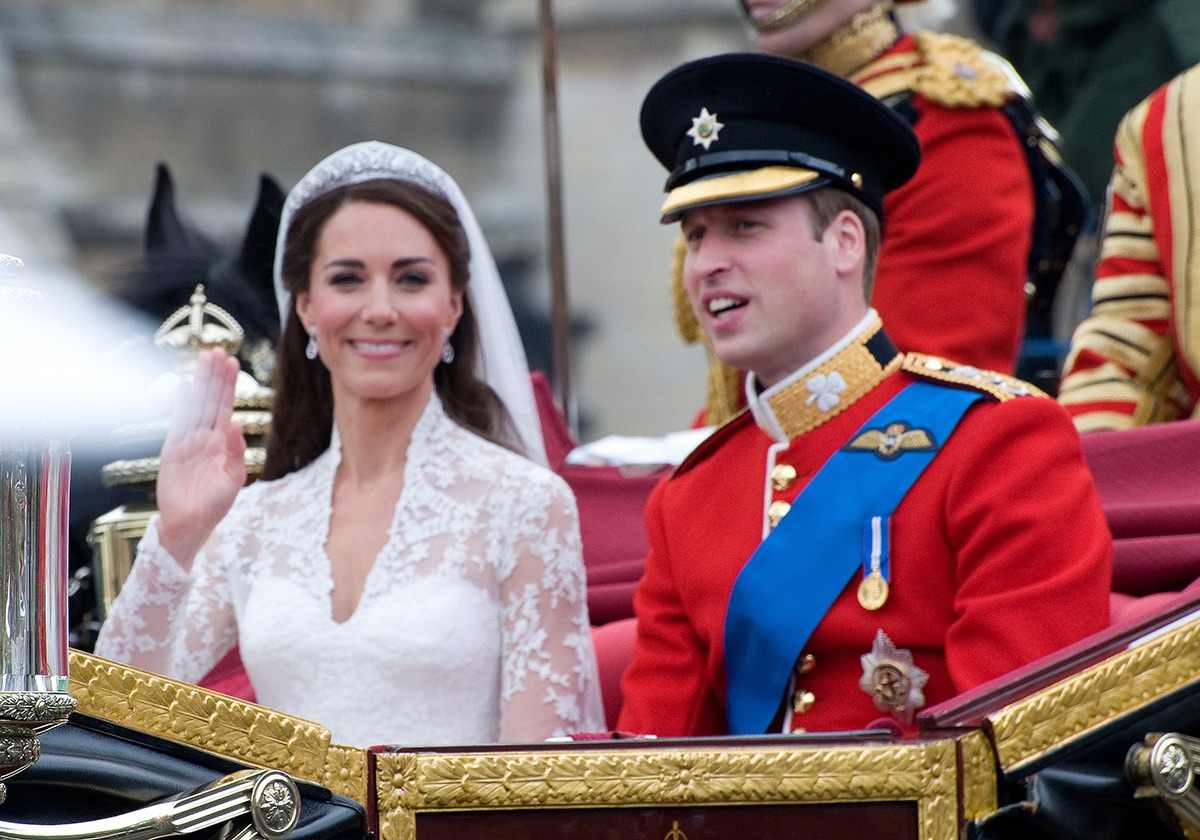 Celebrities are known for their luxurious and extravagant lives; three cities in one a day, private jets, cameras, red carpets, bright lights, mansions… and hypnotising engagement rings! Us common folk can only dream of seeing a ring of that kind of value, but hey, the internet will always be here to keep the dream alive. Maybe you want a little inspiration, want to check out the different designs, or to see what ethically-sourced diamond rings look like. From the Duchess of Cambridge to Queen Bey rings, we hope you can at least enjoy the view!
1. Princess Diana & Kate Middleton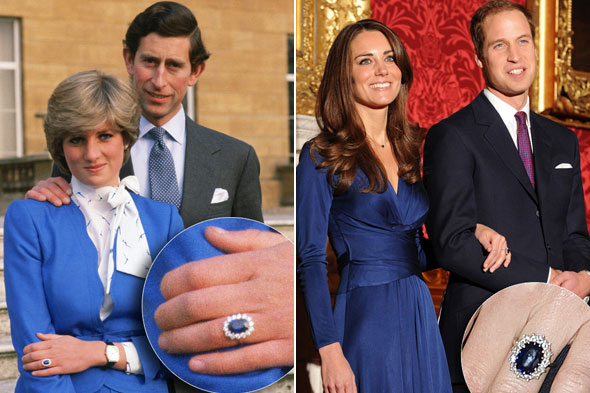 Image via A White Carousel
Probably one of the most famous engagement rings of our time, and one of the few that don't have a diamond as the main rock. Charles, Prince of Wales, proposed to Lady Diana Spencer in 1981, giving her the iconic blue sapphire with a diamond halo ring that she actually chose herself, and was not custom-made but rather was available for general purchase in Garrard's jewellery collection.
Even though that marriage ended and Diana suffered a tragic fate, Prince William gave his late mother's ring to his now-wife Kate Middleton, Duchess of Cambridge, when he proposed in 2010. A truly beautiful way to honour his mother and keep her legacy alive!
2. Beyonce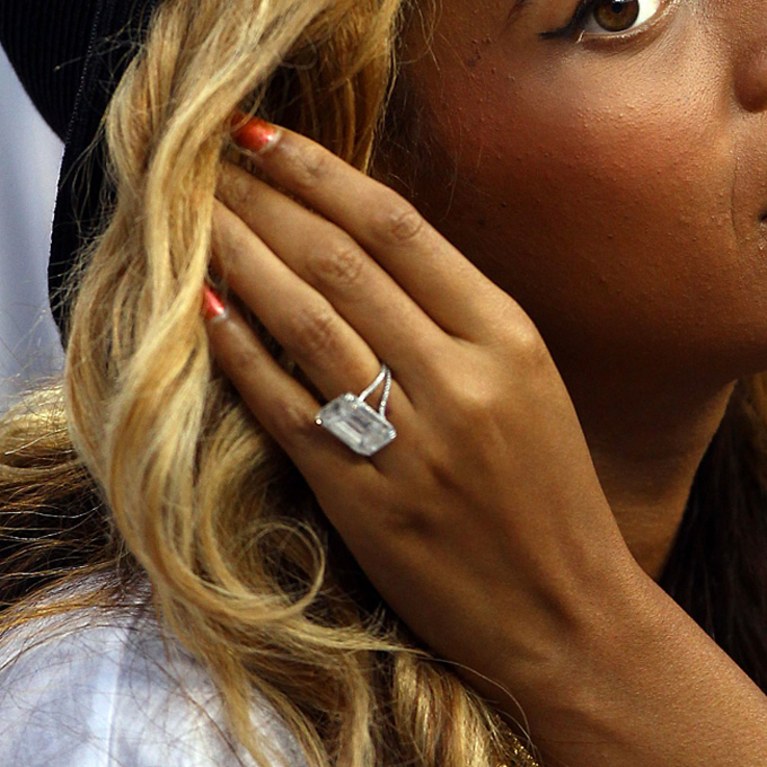 Image via brides
Power couple Beyonce and Jay-Z got married in 2008, and since then have been sporting matching "IV" tattoos on their ring fingers. However, this doesn't mean an engagement ring is missing! Bey's 18-carat emerald-cut diamond set in platinum is both powerful and beautiful, made by famous celebrity jeweller Lorraine Schwartz. Clearly, nothing can ever compare to Queen B's rock.
3. Elizabeth Taylor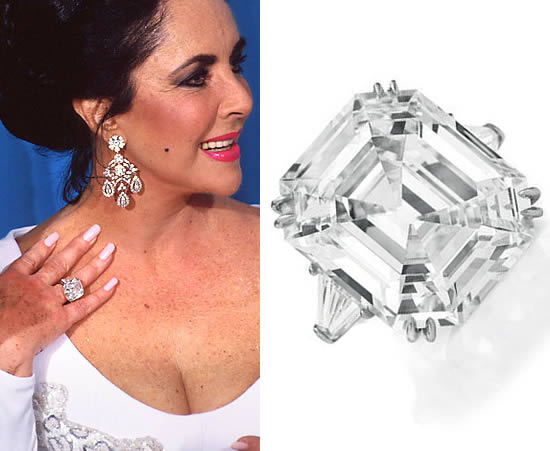 Image via Carousel Diary
Although you could argue that Elizabeth Taylor has had her fair share of engagement rings throughout her life (she has been married eight times!) the one that sparkled the most was definitely the one she received from film and theatre producer Mike Todd. The giant emerald-cut diamond was 29.4 carats.
4. Kim Kardashian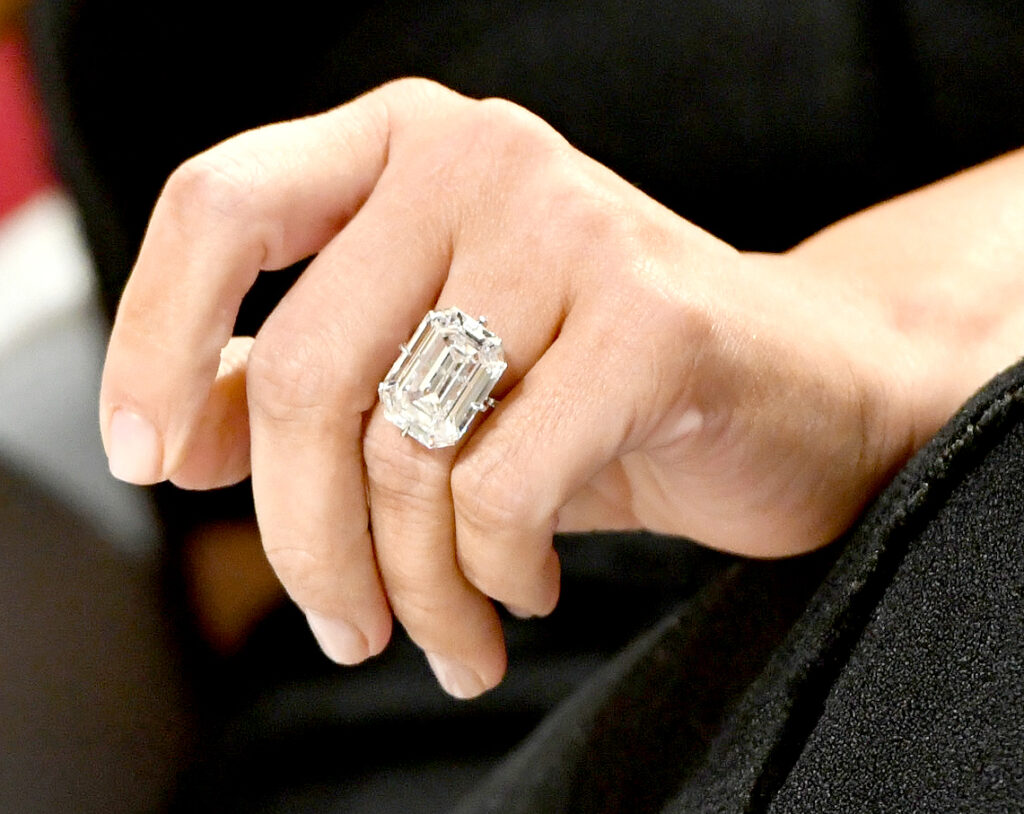 Image via US Magazine
Kim K has one of the most beautiful engagements rings around. Designed by Lorraine Schwartz, the result is a 15-carat, cushion-cut diamond. The ring is even featured on her emoji app, Kimoji. Kanye West proposed to Kardashian in 2013 and made sure the ring was completely conflict-free.
5. Lady Gaga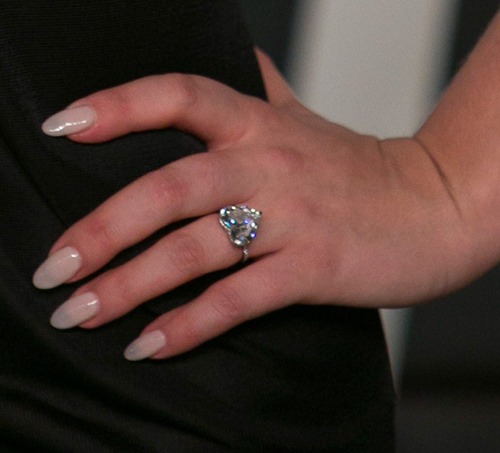 Image via Daily Bird
Lady Gaga and Chicago Fire actor Taylor Kinney met back in 2011 when filming her video for the song "You and I". When Kinney decided to propose in 2015, he did it with an edible candy ring at first. Even though the Ring Pop was a super cute idea and Gaga was over the moon, he then went on to give her the real ring – a unique 6-carat heart-shaped diamond, also designed by jeweller Lorraine Schwartz.
6. Mariah Carey
Image via Diamond Rocks
Australian billionaire James Packer proposed to superstar Mariah Carey with a massive 35-carat emerald-cut diamond, set in platinum and flanked by baguettes. The singer could hardly keep the happy news to herself, asking the audience in one of her Las Vegas shows "Anyone notice I got a new bauble?". Well, chances are with a rock that big, it can probably be seen from a hundred metres away! And we're pretty sure we will never be able to unsee it.
7. Angelina Jolie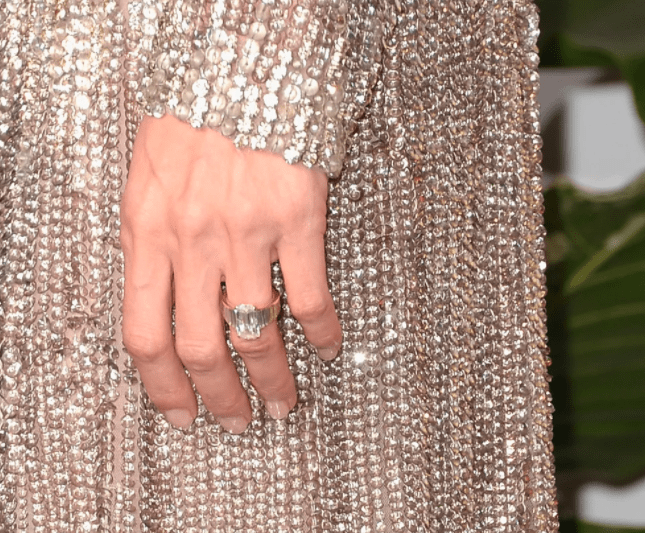 Image via Popsugar
Actress Angelina Jolie married Brad Pitt back in 2014, and for an entire year, Pitt spent time with jeweller Robert Procop trying to design the perfect engagement ring. Finally, the ring came along, a beautiful emerald-cut, 16-carat ring.
8. Heidi Klum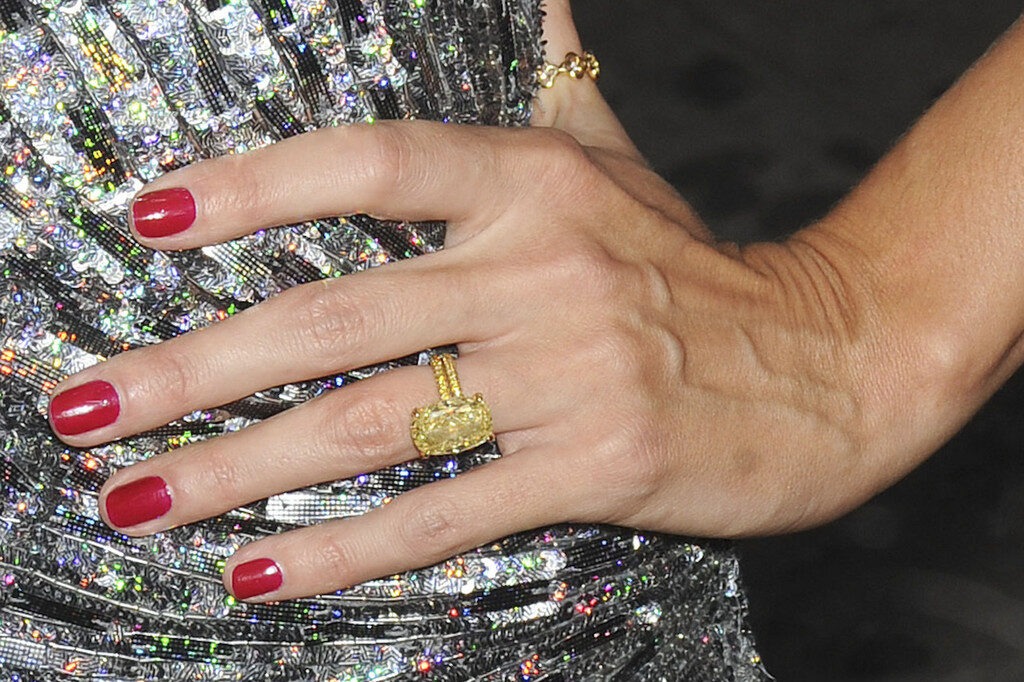 Image via weddingbee
Seal proposed to supermodel Heidi Klum with a stunning 10-carat, canary yellow diamond, accented by smaller pave yellow diamonds along the band, set in yellow gold. Designed by celebrity jeweller Lorraine Schwartz, the beauty of this ring will last for many more years, despite the fact that Klum and Seal divorced back in 2012.
9. Nicki Minaj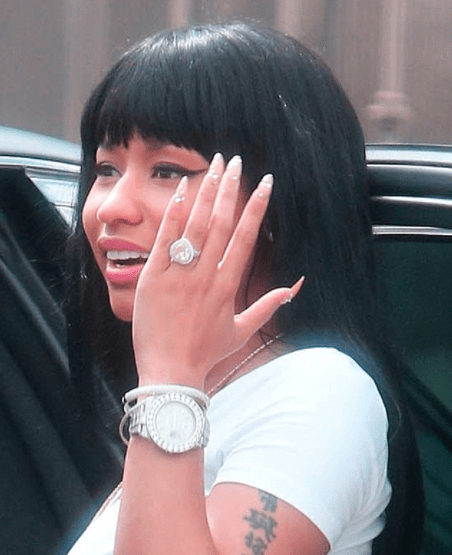 Image via Daily Mail
Meek Mill presented singer and rapper Nicki Minaj an enormous heart-shaped, 15-carat yellow fancy coloured diamond set in a double halo design with small diamonds, set in platinum. In an interview with Ellen deGeneres though, Nicki said the ring is not an engagement ring, but just one of the two rings Mill has given her. She said, though, that the third ring is supposed to be the real one…and we can't wait to see what it'll look like!
10. Natalie Portman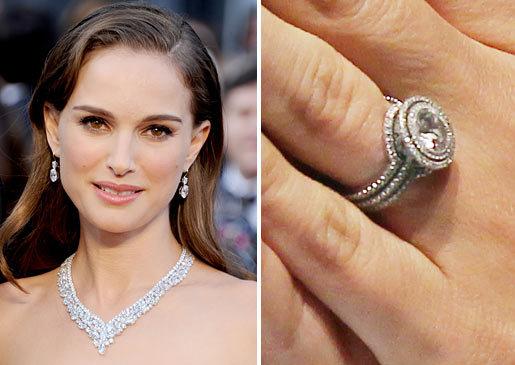 Image via Pinterest
Actress Natalie Portman married Benjamin Millepied in 2012, after he proposed in 2010 with a stunning and original ring, crafted from recycled platinum and conflict-free diamonds.
A diamond for you
Though we can probably only dream of a rock this big, let these top 10 celebrity engagement rings inspire you. And for your choice from a range of stunning engagement rings, visit Australian Diamond Brokers and discuss with our expert jewellery designers what style engagement ring is right for your significant other.