A selfie of you with your engagement ring is one of the best ways to announce your engagement to your family and friends, and even to the whole world on social media. There are many ways to show off your bling and let everyone know you're engaged. You can take a ring selfie with yourself smiling, your hand against a beautiful backdrop, with your fiancé, or even with your pet. So if you're thinking of taking your own ring selfie but don't know where to start, here are 37 white diamond ring selfies to inspire you.
With your fiancé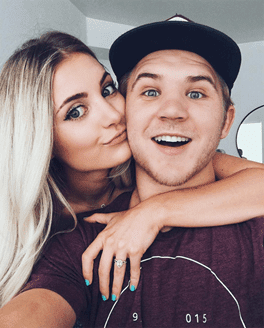 Image via Aspyn Ovard on Instagram
While you and your fiancé both make a loving pose for the camera, put your hand in a place where your ring can clearly be seen.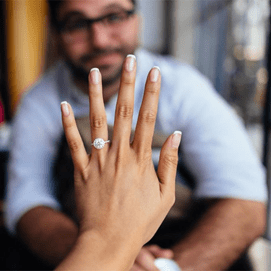 Image via Carizza Rose on Instagram
Get your fiancé to sit or stand in the background and then put your hand up in front of the camera so the main focus is on the ring, but you can still see your fiancé in the picture.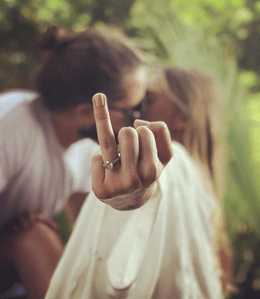 Image via Margot Robbie on Instagram
Like actress Margot Robbie, you can take a cheeky ring selfie with your fiancé by sharing a kiss while you stick up your ring finger to show off your ring.
Holding hands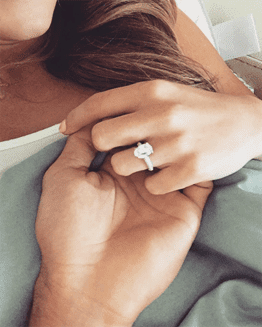 Image via JoJo Fletcher on Instagram
Show the world how much you and your fiancé love each other by entwining your fingers together as you take a close up shot of your ring.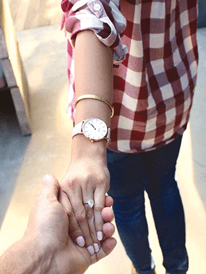 Image via Allison Lach on Instagram
You can create another romantic selfie by leading your fiancé. It shows that wherever you go, they will follow you.
With your fiancé's ring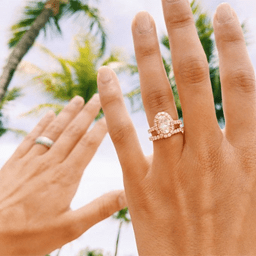 Image via Nicole Wright on Instagram
If your fiancé also has their own engagement or commitment ring, consider taking a photo of your rings together. It'll show that you're both committed to marrying each other.
A solo snapshot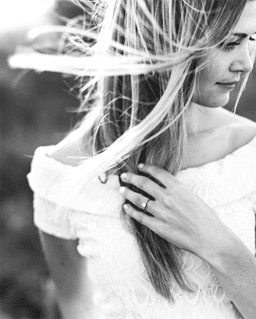 Image via Eye Poetry Photography on Instagram
A black-and-white ring selfie can be just as good as a coloured one. Slip into a dress and get your picture taken as the wind blows through your hair.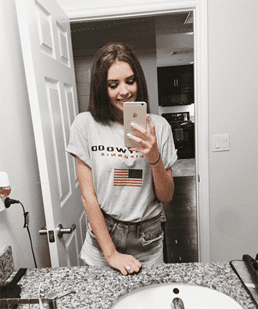 Image via Jess Conte on Instagram
Mirror selfies are still popular, so grab your smartphone or camera and take a shot of yourself and your ring in front of a mirror.
With your pets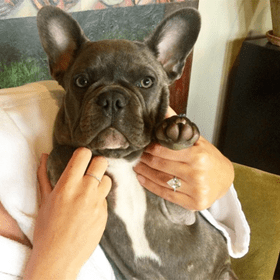 Image via Alyssa Demarco on Instagram
If you have pets, you can casually take a selfie with them while showing off your ring at the same time.
With your bridal party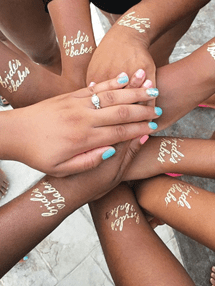 Image via Ms Nicky on Instagram
Round up your girlfriends and put your hands together, one on top of the other. Place your left hand last and snap! It's a beautiful way to show off not only your ring, but your friendship as well.
A simple, up-close snapshot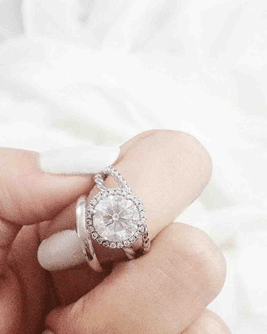 Image via Quinn Luu Creative Studio on Instagram
Let your ring be the centre of attention by taking a selfie in front of an all-white background and zooming in closer to the stone. It'll make for a simple but beautifully blinding selfie.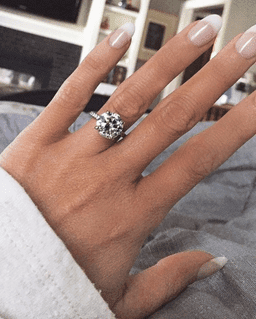 Image via Amber Lancaster on Instagram
With a simple manicure and setting, you can easily recreate this ring selfie.
With statement nails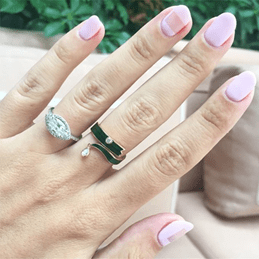 Image via Emily Weiss on Instagram
Paint your nails to bring more attention to your hand and ring. These bright pink nails with an unusual paint job will do the trick.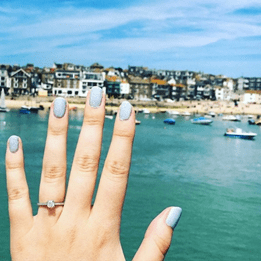 Image via BRIDES Magazine on Instagram
If you're heading to the beach, baby blue nails will go well together with the blue sea and sky when taking a ring selfie.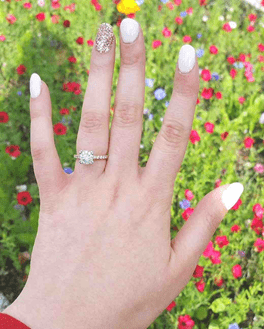 Image via Natasha Alexandra on Instagram
You can consider painting your ring finger nail a different colour to the rest to make your ring stand out more.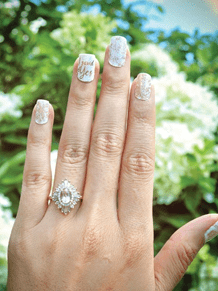 Image via Kimberley on Instagram
You can even paint the words "I Said Yes" on your ring finger nail to announce your engagement.
With yummy food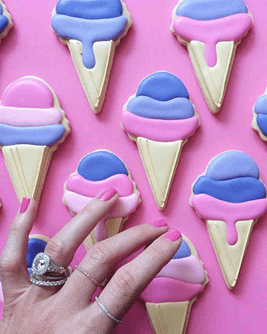 Image via Holly Fox on Instagram
Getting engaged is a sweet thing, but you can make it even sweeter by taking a ring selfie with yummy sweets such as ice cream-shaped cookies.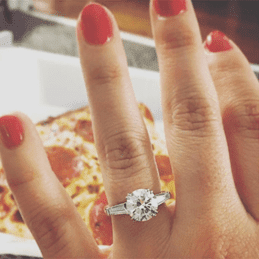 Image via Sarah Dewey Petitto on Instagram
The ring and manicure may be the focus in this selfie but you simply can't ignore the mouth-watering pizza in the background. You'll make both diamond lovers and food lovers jealous!
Celebrating with drinks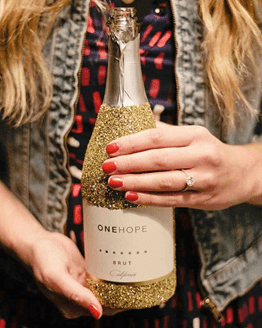 Image via Courtney Herman on Instagram
Announce your engagement in celebratory style with a sparkly ring and a bottle of champagne.
Image via Esra Tugce Gulebay Ayirici on Instagram
Taking a ring selfie over a cup of coffee is another great way to announce your engagement.
With accessories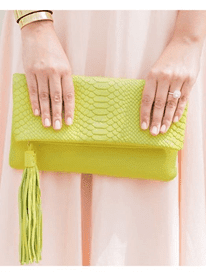 Image via Alex Carreno Haines on Instagram
You don't have to show off just your ring, you can also show off your bangles and clutch bag and how well the ring matches.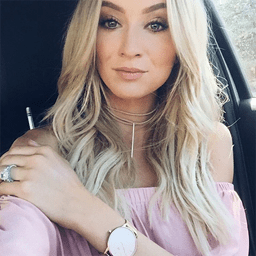 Image via Lauren Bushnell on Instagram
You can even take a ring selfie with your matching watch and necklace too.
With statement clothes or shoes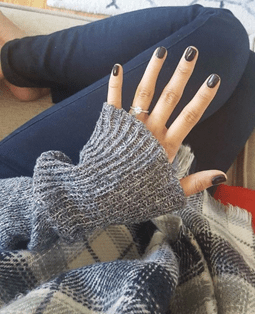 Image via Ivanah Marie Blakely on Instagram
During cold weather, take a cosy ring selfie by wearing a scarf, woollen jumper, some pants, and even matching-coloured nails.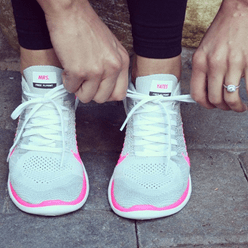 Image via Ashley Yates on Instagram
If you're heading out for a run, take a sporty selfie with customised shoes that celebrates your future Mrs. status.
With beautiful flowers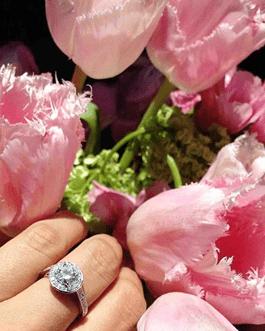 Image via Chime on Instagram
Rest your ring against a bed of tulips for a beautiful, flowery selfie.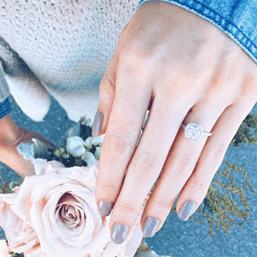 Image via Shelby / Pretty in the Pines on Instagram
You can also take a pose with a pretty pink rose. These selfies are made even better if your fiancee was the one who bought you the flowers!
With your wedding and honeymoon plans
Image via Katie Lakavage on Instagram
Taking a selfie of your ring next to a bridal magazine and some colour choices for your wedding will have everyone anticipating the wedding date.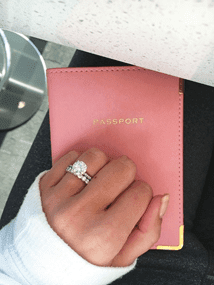 Image via Kenzie on Instagram
Planning on travelling the world with your fiancé, or maybe even eloping? Snap a photo of your ring over your passport.
With words and symbols of love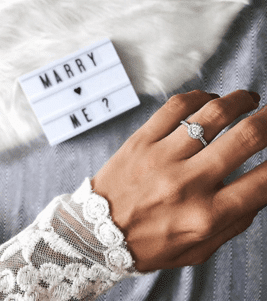 Image via Larissa Chamberlain on Instagram
A mini-marquee with the words "Marry Me?" plus a tiny heart shows how much your partner loves you. And the fact you're wearing the ring also shows how much you love them back.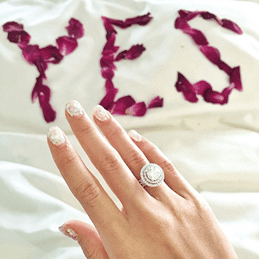 Image via Jenifer Patricia on Instagram
Having the word "YES" spelt out with rose petals on a bedsheet and your ring in focus is not only romantic, it also shows that both you and your beloved want to spend the rest of your lives together.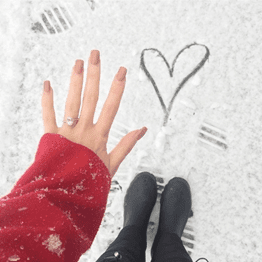 Image via Lindsay Marie on Instagram
Whether you're at the beach or on a snowy mountain, draw a heart on the sand or snow then take a ring selfie. It'll look lovably cute for sure!
A creative snapshot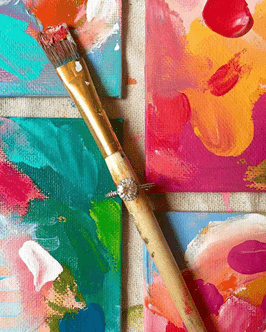 Image via Bethany Joy on Instagram
If you love painting or drawing, try something out of the ordinary like putting your ring in a paintbrush or pencil.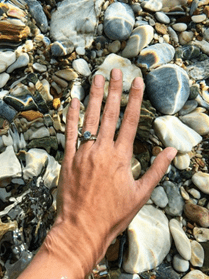 Image via Olivia Barlow on Instagram
You can be even more unique and creative by putting your ring in the water.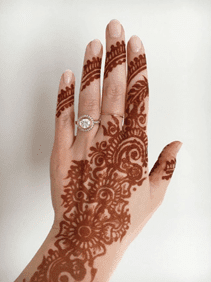 Image via Ashley Bedore on Instagram
Take your creativity to the next level by having a henna tattoo painted on your left hand. You'll not only be able to create a unique and unusual self-portrait of your hand, you'll also make your ring stand out more.
With a scenic background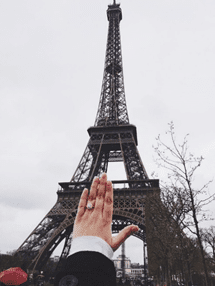 Image via Diana Nemeth on Instagram
Whether your sightseeing in your local city or overseas, there are many iconic landmarks you can take a ring selfie in front of, such as the Eiffel Tower in Paris or the Harbour Bridge or Opera House in Sydney.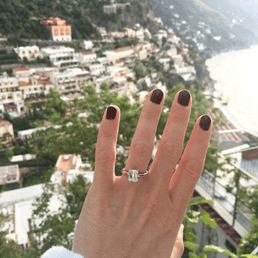 Image via Marin Schlosson Instagram
A ring selfie overlooking a coastal town makes for a very pretty view.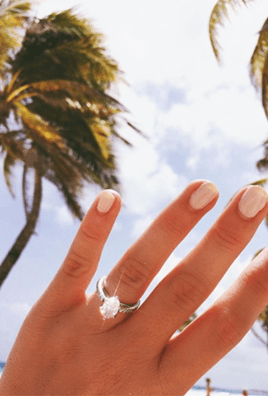 Image via Kate Loftuson Instagram
If you're visiting a tropical beach, raise your hand in the air and take a shot of your ring against a backdrop of palm trees and a brilliant sky.
Ready to take your own engagement ring selfie?
Hopefully these engagement ring selfies have given you some inspiring ideas for your own. If you're ready, grab your camera or smartphone and be as creative or as flashy as you like. Just remember to catch maximum natural light and get the right angle for the best ring selfie.
If you don't already have an engagement ring, you can find one at Australian Diamond Brokers. We offer white diamond engagement rings in various cuts, styles, and settings. Write to us or make an appointment and we'll help you choose or create an engagement ring that you can't wait to show off in your own ring selfie.
by Australian Diamond Brokers : June 5th 2018
Come visit our store or browse our website to find out more.