Choosing the Ring Size and Band Thickness For Engagement Rings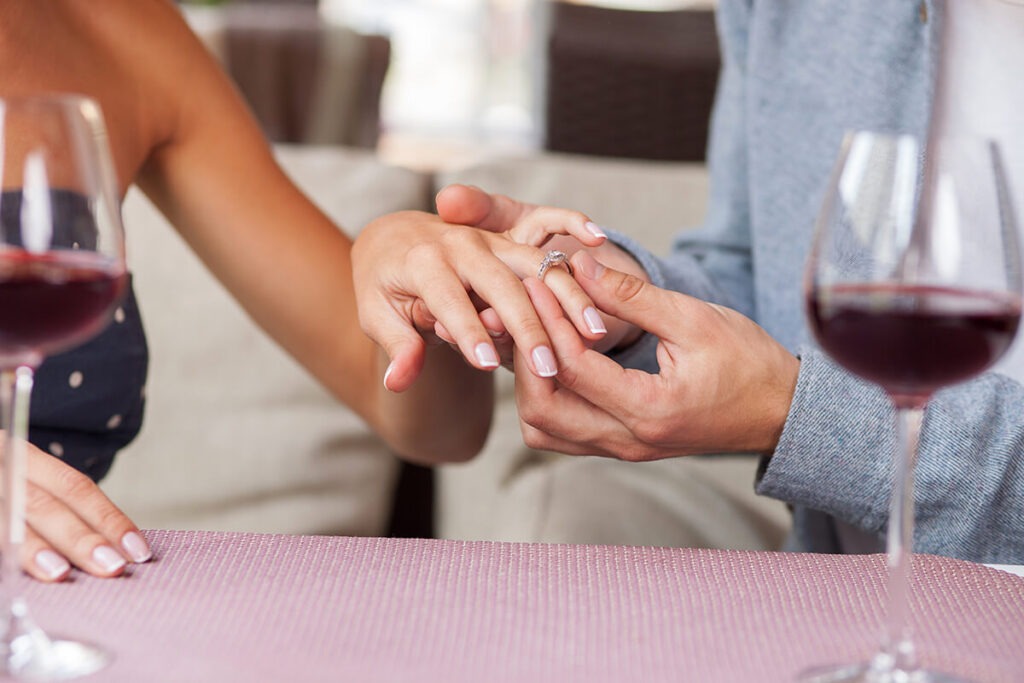 The perfect engagement ring is a token of your unique relationship, that's why it's essential you get the ring just right. But what size ring should you get, and what about band thickness? You may not know it, but these are serious considerations, as they can affect what size setting and stone is suitable to the ring, as well as the ring design. Before you choose an engagement ring, make sure you know everything there is to know about ring thickness and size.
Standard sizing for engagement rings
The standard width for an engagement ring is about 2.5 millimeters. Wider designs run higher than 3 millimeters, while skinnier engagement rings are about 1.5 – 2 millimeters in thickness. There's no perfect sizing but the width of the engagement ring will affect which settings and shanks you can choose from.
Pros of skinny bands
Light weight
Lighter weight bands are lighter to wear, use less materials and smaller ring mounts. Less materials can mean better value for money, especially with more expensive materials.
Better contrast between ring and diamond
If you're looking to draw attention to the diamond then a skinny band will provide better contrast between the gemstone and the diamond, even if the stone itself is not particularly large.
Overall, a more delicate look
For a finer finger, the skinny band is well suited. Similarly, a skinnier band on your engagement ring could be more comfortable to wear if you find larger bands irritating.
Cons of a skinny band engagement ring
Weaker shanks
Shanks must match the band, so skinner shanks are weaker that those on regular or wider shaped rings.
Longevity
While a skinny band will last a lifetime, regular polishing and refinishing could weaken the band over time.
Proportion needs to be considered
On a regular sized finger a slimmer engagement ring band can look disproportionate.
Pros of a thicker engagement ring band
Sturdy feel
If you like a ring that feels sturdy on the finger, a thicker band over 2.3 millimeters will feel great.
More sparkle
Want a large diamond on your ring, or just more smaller diamonds? Larger rings can accomodate bigger stones, and larger shanks, meaning more sparkle.
More durable
If you're someone who uses their hands a lot a thicker engagement ring has more durability.
Cons of thicker engagement ring band
Requires the right gemstones
With thicker bands centre diamond has to be the right size and shape, as the thicker band is competing with the diamond when it draws the eye.
Not for smaller fingers
A thick band on a delicate finger can look oversized, make sure your ring is suitable for the size and shape of your finger.
The basics of engagement ring measurements
The standard measurement for a ring is given in millimeters, and is the length of the inner circumference of the ring (the part that touched the finger). Sizing is theoretically standardised but can vary slightly from jeweller to jeweller, similar to fashion, where sizes are also standardised but there may be some variation in the fit.
Getting measured at the jeweller
The best way to get your finger measured is to head to the jeweller. A graduated metal wand with size markers called a mandrel is used to measure ring size on the finger. Getting measure by a jeweller is the most accurate way to get measured for a ring, but it might not always be possible if the ring is a surprise (like for an engagement).
Sizing at home
It's also possible to size your own ring from home. While this won't help if you're planning a surprise, it's still a useful method. You can print off a paper ring size chart like this one and find your ring size from home.
How to know your partner's ring size
Trying to find your partner's ring size without her knowing? Try these few handy tips:
Tie a knot
Literally, tie a length of string or ribbon around her finger. When she's sleeping is a good time to do it. Keeping things incognito, or make it part of a game or joke so she doesn't catch on to your intentions.
Rope a trusted friend into your secret
Your soon-to-be-fiance's friends are an invaluable source of information. Of course you already know that, but when it comes to finding the right sized ring, they might be your strongest ally. Find out which ones can keep a secret, then ask them to do some investigating for you.
Slip on something silly
Next time you're attending a dress up party, or maybe at the local markets, try out some gaudy costume jewellery. Just act like you're goofing off and slip on a few rings to see what fits. Come back later if you can't find a way to buy the winner on the spot.
Talk to the experts
Whether you know the ring you want or are looking for a little help finding the perfect shape and size, Australian Diamond Brokers is the best way to find the perfect engagement ring. Check out our full range and find that special ring just for you.