The Complete Guide to Choosing a Men's Wedding Ring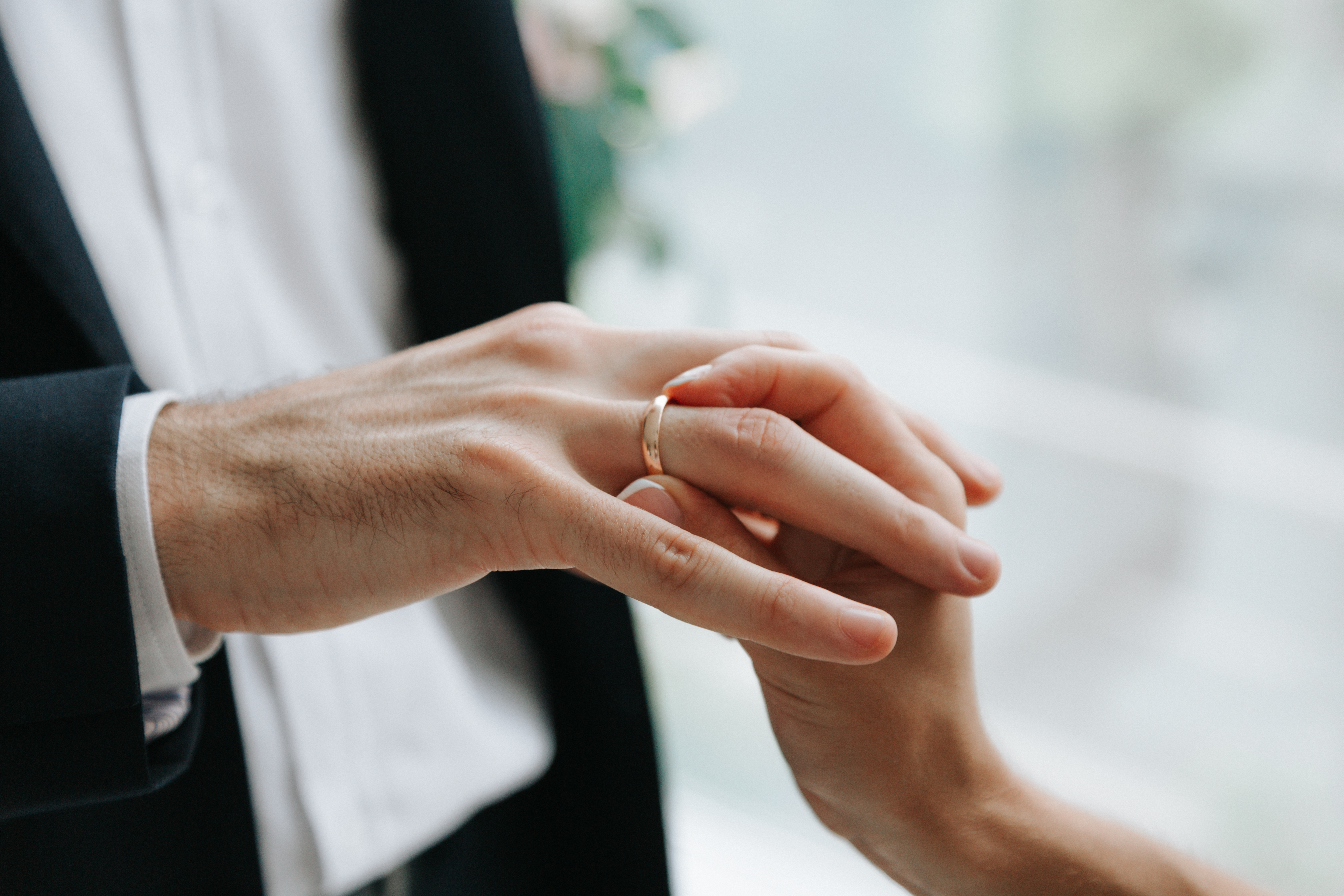 One of the best things about getting married is choosing your wedding ring. But there are a lot of things to consider, and this can make it difficult to know where to start. Which metal do you choose? What texture? What style? With so many options now available for men's wedding rings it can be overwhelming, and that's why we've created this guide. We cover the different settings and styles for men's wedding rings to help you find the perfect ring.
Men's wedding ring settings
Traditional metals
Modern metals
Metal textures
High polish – A metal with a high polish has a reflective finish and is the most traditional choice.
Matte – A matte metal has a less reflective finish and gives off a modern and understated feel.
Combination – A combination wedding ring combines both high polish and matte textures.
Hammered – A hammered metal looks like it's been pounded with a tiny hammer. It's popular with men who prefer a unique, eye-catching ring.
Curved or flat edges
Men's wedding rings can either have curved or flat edges. A ring with flat edges form right angles to the sides of the ring, so you'll feel that you're wearing a ring. On the other hand, a ring with curved edges is perfect for you if you're concerned about how it'll feel to wear a ring every day.
Men's wedding ring styles
Classic ring
With its simple and sleek design, the classic men's wedding ring is timeless. You have a variety of designs to choose from, such as a platinum milgrain ring, a rose gold matte comfort-fit ring, a vintage two-tone faceted gold ring, a gold curved ring, or a white gold square-edge ring.
Contemporary ring
A contemporary wedding ring is an upgrade of the classic wedding ring. It combines different metals and textures. Some examples include a grey tungsten carbide brushed-centre flat ring with white gold, a ring with carved links of contrasting polished and brushed black tungsten carbide, a yellow gold matte square euro-fit ring, a pallina domed ring, a ridged edge combination ring, and a coin edge matte ring.
Flashy ring
You can make your wedding ring unique and flashy by adding a subtle vertical stripe of sparkling diamonds or sapphires, some large diamonds across the front of the band, or a lane of titanium. You could also choose a ring with a Celtic knot or hand-braided design or a rose gold sculpted crescent ring with diamond accents.
Unexpected ring
Something unexpected always catches people's eyes, so if you want your wedding ring to be noticed, why not try a titanium wood-grain hand-ground ring. Or maybe you'd prefer a lados nacascolo wood ring with recycled sterling silver or a platinum ring with carved squares.
Engraved ring
You can personalise your wedding ring with engraving, either on the inside or outside. You can choose to engrave the metal with the wedding date, your fiancé's name, initials or fingerprint, or a word, phrase or song lyric that reflects your love story.
Custom ring
You can also have your wedding ring customised to reflect your personality. You might want to go for an antique design, add nature-inspired motifs, or include patterns or symbols that honour your heritage or history.
Choosing the perfect men's wedding ring
Ultimately, the wedding ring you choose will depend on your personal preference. You may want a particular setting and style that reflects your personality and tastes. But in the end, make sure to pick a ring that fits your finger and that you'll enjoy wearing. It should also ideally complement your partner's wedding ring, as well as suit your budget and lifestyle.
If you're looking to buy a men's wedding ring, contact Australian Diamond Brokers today. We have an extensive selection of stand-out wedding band designs, from classic to extravagant, which also come in a wide range of materials, from gold to titanium. We'll be happy to guide you through the process of choosing or creating the perfect men's wedding ring.