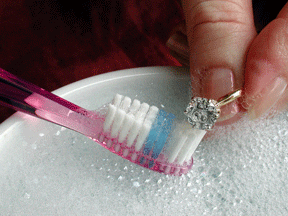 Read through this article on tips and guidelines on how best to be caring for diamond rings.
About us: Australian Diamond Brokers are one of Australia's leading providers of diamonds in Sydney. Established in 1977, our extensive knowledge in diamond grading helps you buy the best diamond possible for your particular needs and budgets. Conveniently located in the Sydney CBD between Chanel and Bvlgari, yet very private, our guests are treated with integrity and care, making their experience informative, full of joy, and creating a sense of fulfillment which is unsurpassed. Australian Diamond Brokers prides itself on abiding by the Kimberley Process and only dealing in conflict-free diamonds.
Follow us on Instagram at @australiandiamondbrokers
If you feel your diamond is looking a little dull or cloudy, don't stress. It's only on the surface of the diamond and can be cleaned within a matter of 20-30 seconds in our ultrasonic cleaner. The only substance that does not stick to a diamond is water,
When a diamond is clean, it will reflect light at it's maximum capacity. When jewellery is worn next to the skin, it will become covered and clogged in oily debris mainly composed of dead skin and cosmetics. Dust and grit become lodged in this. Wearing rings while washing up can also allow a greasy film to coat the backs of stones, and the inside of settings.
The main purpose of cleaning diamond rings is to remove all this greasy debris and allow light to enter and leave the diamonds which helps in restoring their sparkle.
At Australian Diamond Brokers we offer a lifetime cleaning service to our customers. For the life of the ring, we will clean it in our ultrasonic cleaner as often as you like, we will also check the setting and make sure the diamond is safe and secure free of charge.
However if it's too hard to make it into the city, there are several ways of keeping diamond jewellery clean. I have outlined them below:
Detergent Bath Caring for diamond rings
The detergent bath is performed with a small bowl of warm suds using any mild liquid detergent. Immerse jewellery pieces in the suds and brush gently with a toothbrush. Rinse under warm running water and pat dry with a soft, lint-free cloth.
Jewellery Cleaner caring for diamond rings
The quick dip method uses one of the liquid jewellery care products available. Follow the instructions on the kit.
Ultrasonic Cleaners
Jewellery manufacturers and workshops use ultrasonic cleaning tanks. In these, the actual cleaning is performed by the cleaning solution, usually a mixture of ammonia and detergent, the ultrasonics merely provide the agitation to speed up the process. Small domestic ultrasonic cleaners are now available, and many jewellery stores sell them as gift items.
At Australian Diamond Brokers we use an industrial strength ultrasonic cleaner that zaps the dirt away at over 20,000 beats a minute. It is a very quick process and takes less than 30 seconds to remove all the oil and dirt. This is a service we offer for life – free of charge!
Contact us to buy an ultrasonic cleaner.