Your wedding day is a momentous occasion where every detail counts, including your choice of jewellery. The right pieces can enhance your bridal look, adding elegance, sophistication, and a touch of personal style. In this comprehensive guide, we will explore the art of styling your jewellery for your wedding day, from selecting the perfect pieces to coordinating them with your attire to create a cohesive and memorable look.
Choosing the perfect jewellery for your wedding is a process that begins with your dress. Consider the neckline, style, and embellishments of your gown when selecting your jewellery. Let your personal style shine through your choices; your wedding day isn't the time for radical experimentation.
The metal of your jewellery should harmonise with your engagement ring or any other pieces you plan to wear. Whether it's white gold, yellow gold, rose gold, or platinum, the metal's choice should align with your overall aesthetic.
Altogether, we'll be taking a big look at the do's and don'ts of styling your jewellery for your special day. Take a dive with us…
Choosing the Perfect Wedding Jewellery
Before delving into jewellery styling, it's crucial to make the right jewellery selections for your big day. Here are some helpful tips to guide you:
Begin your jewellery selection by considering your wedding gown. The neckline, style, and embellishments of your dress will significantly influence the type of jewellery that complements it.
Also, considering your personal style by staying true to your personal style is essential. Don't use your wedding day as a time to experiment with an entirely different look. Choose jewellery pieces that align with your taste and personality.
Now, you select the metal. Ensure that the metal of your chosen jewellery complements your engagement ring or any other pieces you plan to wear. Common options include white gold, yellow gold, rose gold, or platinum. 
Don't be afraid to obviously incorporate gemstones too. If your engagement ring features a coloured gemstone or if you have a specific colour scheme for your wedding, consider incorporating these hues into your jewellery for a harmonious look.
Statement or subtle? Decide whether you want your jewellery to be a focal point or more understated. While statement pieces can add drama, subtler options can enhance your overall look without overshadowing your dress.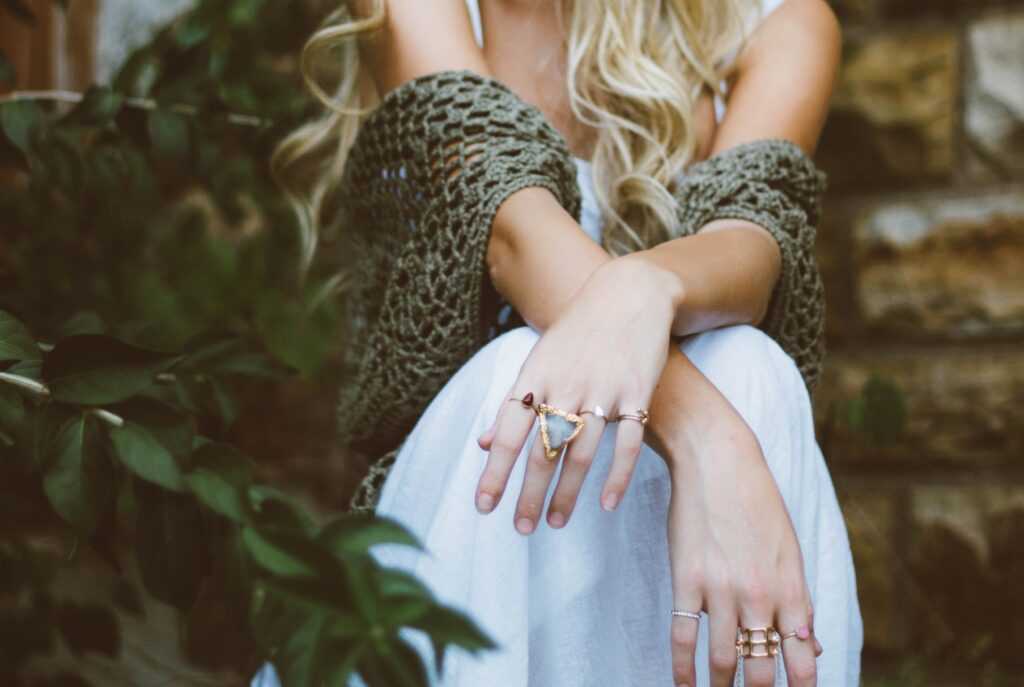 Bridal Necklace and Earring Sets
One popular choice for wedding jewellery is a coordinated necklace and earring set. Here's how to select the perfect set for your special day:
Pearl Sets: Classic pearl sets are timeless and can be paired with various dress styles, from vintage to modern.
Diamond Sets: If you desire some sparkle, consider diamond necklace and earring sets. They work beautifully with contemporary gowns. Lab grown diamonds are also a good idea if you feel like adding them into the mix.
Coloured Gemstone Sets: To infuse colour into your bridal ensemble, opt for sets featuring gemstones that match your wedding colour palette.
Coordinating Your Wedding Jewellery
To create a cohesive look, your jewellery should coordinate with your dress, hairstyle, and overall wedding theme:
Necklaces
If your dress features a plunging neckline, a pendant necklace can highlight the neckline's shape. For high necklines or dresses with intricate detailing, consider a delicate chain or no necklace at all to keep the focus on the dress.
Earrings
Choose earrings that complement your hairstyle. Stud earrings are versatile and work well with updos, while statement earrings can add drama to loose, flowing locks.
Bracelets
Sleeveless or short-sleeved dresses provide an opportunity to wear bracelets. Keep them simple and elegant, especially if your dress is detailed.
Hair Accessories
Don't overlook the potential of hairpins, combs, or tiaras. These can add a touch of sparkle to your hairstyle while matching your other jewellery pieces.
Personalised Wedding Jewellery
Incorporate personal touches into your wedding jewellery for a unique and sentimental look:
Custom Engravings: Consider engraving your initials, wedding date, or a meaningful message on the inside of your wedding band or a pendant. Whether it's a secret message shared between you and your partner or a reminder of your commitment, these small touches can serve as cherished mementos of your wedding day for years to come.
Bespoke Engagement Rings: Bespoke or custom-made rings are one of the best ways to show off how dedicated and enthusiastic you are toward your new spouse on your wedding day. If you're particularly keen, visiting our building in Sydney is a great way to get started with your bespoke diamond engagement rings.
Family Heirlooms: Incorporate family heirlooms into your ensemble for sentimental value. This could be a necklace, brooch, or even your mother's or grandmother's wedding band. By wearing these cherished family pieces on your wedding day, you not only honour your family's history and traditions but also create a beautiful connection between generations. 
Birthstone Jewellery: Include your birthstone, your partner's birthstone, or both in your wedding jewellery for a meaningful connection. These gemstones not only add a personalised touch but also symbolise the unique bond you share. 
Wedding Jewellery Trends
If you're looking for inspiration, consider some of the latest wedding jewellery trends:
Mismatched Earrings: Embrace the trend of wearing mismatched earrings, allowing for a touch of creativity and individuality.
Floral Motifs: Floral-inspired jewellery, including earrings, bracelets, and headpieces, adds a romantic and natural touch.
Minimalism: Minimalistic and delicate jewellery pieces are in vogue, allowing the focus to remain on the overall bridal look.
In Conclusion
Now that you have a comprehensive guide on how to style your jewellery for your wedding day, you can confidently make choices that reflect your style, enhance your beauty, and create a truly memorable bridal ensemble. Whether you opt for classic elegance, modern sophistication, or a touch of personal flair, your wedding jewellery will complement your overall look and help make your special day truly unforgettable.
Remember that your jewellery choices should align with your personality, wedding theme, and, most importantly, the love you and your partner share. So, as you embark on this exciting journey of planning your wedding, let your jewellery not only adorn you but also tell the beautiful story of your union, ensuring that every moment of your day shines with elegance and significance.
Common Questions:
What jewellery should you wear to a wedding?
There isn't a one-size fits answer to this question. Generally, you should wear nice and formal, well fitting jewellery such as necklaces, earrings, bracelets and hair accessories. Try and keep the jewellery looking sharp and clean, and if you are a bridesmaid – not to outdo the bride herself.
What colour jewellery should you wear on your wedding day?
The best way to go about deciding what colour jewellery to wear is to stick with what your dress colour is. Most of the time, white is going to be the main colour of choice. So sticking with things like silver, gold and platinum are the way to go.
Are you supposed to wear your engagement ring on your wedding day? 
In a traditional sense, you would wear the engagement ring on your right finger as you walk down the aisle. Then, during the exchange of rings, the groom places the wedding band on the ring finger on the left hand of the bride.
by Australian Diamond Brokers : October 4th 2023
Come visit our store or browse our website to find out more.