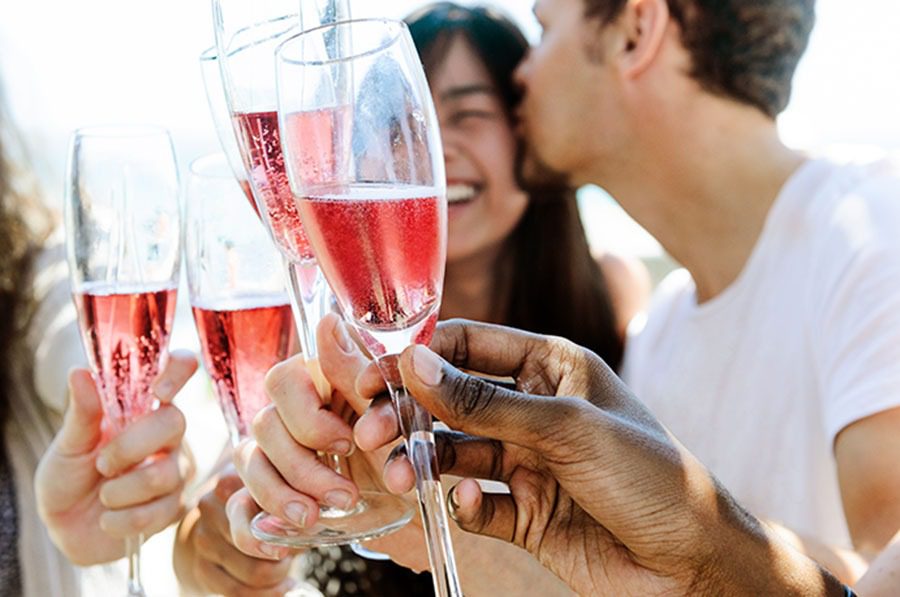 After the proposal high, get ready to start on the engagement party preparations. You probably want to celebrate this important moment of your life with you and your partner's families and your adored friends, and provide the perfect gathering for everyone to get acquainted. Organising a party can be a quite stressful task however, and it's easy for things to slip your mind when planning. We have listed the 10 most important things every party needs – so read on to find out how you can pull off the perfect engagement soiree!
1. What type of party?
Firstly, you need to sit down with your partner and visualise what type of party you both want to have. Do you want an elegant, formal event? A smart casual party? Or just a relaxed garden gathering? This step is important in order to define budgets, choose themes, food, venues etc.
Because engagement parties are perfect for both families to meet and get to know each other, we suggest to have a stand up cocktail or buffet-style party. These sort of parties lend themselves to being a bit more relaxed and less structured, and without the pressure of assigned seats and long sit down meals. A stand-up gathering makes it easier for guests to talk and mingle, and get to know people outside of their immediate circle. It is important to note though, just because it's called a stand up party that doesn't mean you don't need any seats – older people often need to sit down, and it's nice for everyone else to have that option too, so bear that in mind.
And if you both enjoy surprises, why not treat your family and friends to a truly memorable ruse? A trend we've noticed recently is where couples organise a "surprise wedding". How? The couple tell all the invitees it's an engagement party, only for guests to realise it's actually the wedding ceremony once they've arrived! Consider this idea if you have a small budget, enjoy the "wow" factor, or just can't wait to be married!
2. Budget
Budget can be a tricky part of organising a party. For most couples, their wedding and engagement parties are a couple of years apart, which helps with the financial planning. However if your wedding is going to be less than a year after the engagement party, or if you simply don't want to spend too much in an engagement party, you might want to consider some money saving options.
Throwing a party like this can be very expensive, however there are lots of things you can cut back on if you plan ahead. For example, ask around in your circle if anyone is, or knows, a photographer: a friend's recommendation often comes with a discount. When booking a venue, ask if there are different rates for different days. Also, creating a spreadsheet is always a good idea for further guidance and money allocation.
3. Venue
The venue goes hand-in-hand with the theme and feel of the party. Ideally, pick one that is not too far from your house – it'll take the pressure off getting there and coming back, and make it a lot easier on the celebration day. Think whether you would like a venue with a view or not. In summer, venues with a view can be particularly nice, as people enjoy being able to move around and go outside to soak in the beautiful weather, however in winter this is not as crucial, as there's a higher chance of rain or clouds.
Some people forgo hiring a venue all together and choose to have their party at a house. This is a great way to save you money, while giving that extra intimate, cozy feel to the gathering.
4. Theme
Once you have settled the theme with your partner, decorating will be a lot easier. You could even match the theme of the engagement party to the wedding. For example, if the wedding is going to be at the beach, you can have a coastal theme for the engagement party. Other ideas include choosing your favourite colours, season of the year, activity you both do as a couple etc. There are so many theme ideas, you can even ask the guests to dress accordingly!
5. Food
You have to feed all those guests, after all! If your party is set to be during mealtime, then you'll need lots of food (which can increase the cost of the party). The best thing to do if on a budget is to organise a buffet, where people have options and they choose and pick what they'll actually eat. Canapes, tapas and high teas are great ideas for party food. Food trucks are a great idea too if your budget allows, as they can cater to all cuisines and come in an incredible array of designs which look great in photos; from pastel vintage, to colourful modern Mexican-cool, to vegetarian food trucks that are timber panelled with vertical leaf gardens!
6. Drinks
It's not a party if there's no wine! Let's face it, a drink station will definitely be the focus of your engagement party, and it will be one of your biggest expenses as well. However, there are a couple of tricks you can do so you don't see red numbers on the budget. First of all, there are always deals online where you can buy quality bottles of wine at great prices delivered to your door, and secondly, sangria anyone? Sangria is a delicious and well-loved party drink that doesn't need expensive wine to taste amazing – that's the beauty of the fruit and spices you add in it!
Some people decide to hire a bartender to make the party extra fun. You can even include a little cocktail menu featuring you and your partner's favourite drinks!
7. Desserts
A touch of sweetness is definitely a good way to end a party, as no good meal is complete without dessert. You could consider one large engagement cake, or providing lots of smaller, individual ones.
You can also have a lolly buffet table, full of sweet treats, chocolates, cupcakes, macaroons, marshmallows, ices cream, mini cheesecakes, cookies, fresh fruit and other deliciousness.
8. Photos
Make your engagement party a moment to remember. Some couples hire a professional photographer for the party, and even have a separate photoshoot in another location, such as a beach, park or jetty. However, this is all considering the budget you have for your engagement party. You can always consider a friend who has a good eye and a great camera, but who may not be a professional: there's always somebody in a group of friends or in the family that takes good photos.
There are a myriad of styles for your engagement party photos, so it's worth having a look around the web for inspiration. Think about whether you'd like a photoshoot – perhaps just you and your partner, or candid shots during your party while you were spending time with guests. Do you want something classic? Or perhaps more modern, perhaps making use of an urban landscape? This is one of the most fun things to research, and will come in handy for your wedding day as well.
Start thinking of a unique hashtag, so your friends and family can all contribute to the pool of photos shared across social media as well. Here's a nifty wedding hashtag generator if you need some inspiration!
9. Outfit
As the bride to be, you're allowed to wear white, cream or ivory! However keep it more simple than the wedding dress – you don't want to confuse the guests by looking super formal. You can also match your outfit to the party theme, and remember to let guests know in the invitation if it's going to be a formal, casual or smart-casual event.
10. Gifts or no gifts
Should you or shouldn't you expect gifts? Technically, engagement party etiquette doesn't really dictate that guests should bring gifts, but most people do.
In light of this, you can use the invitation to specify the kind of gifts you'd like, or if you don't want gifts at all. Guidance to your guests regarding gift giving can be along the lines of if you want kitchenware and homewares to help you out with your new home. Or perhaps details of your wedding registry with a department store? On the other hand, if you already share a home, maybe homewares are not that useful. If this is the case, maybe money works best for you! Even though it may be considered a bit out there to ask for money, there are ways that you can phrase it on the invitation to make it sound polite and pragmatic. And, after all, you're inviting people you know, and you can always let them know personally what your gift preference is.
We congratulate you in this exciting step you're taking with the person you love. It's one of those important memories you'll cherish as a couple. We hope now that when it comes to planning your engagement party, you'll find it a bit less stressful after reading this guide. Remember it should be about what makes you and your partner happy and celebrating next to the people closest to you!
by Australian Diamond Brokers : October 21st 2016
Come visit our store or browse our website to find out more.