Diamond weight (carat)
Diamond weight and other gemstones are weighed in metric carats, with one carat being equal to 0.2 grams. A carat is divided into 100 points (i.e. a 50-point diamond weighs 0.50 carats), but two diamonds of equal carat weight can have very different values depending on other factors such as clarity, colour, and cut.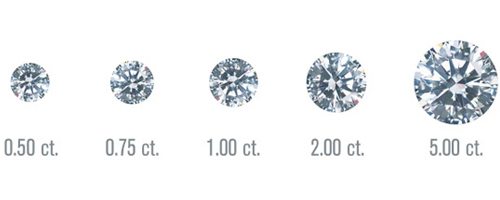 The carat takes its name from the carob seed which early gem traders used as units of weight on their scales when weighing gemstones because of their uniform size. The weight of an average carob seed is 200 milligrams, which is why the weight of one carat is also 200 milligrams or 0.2 grams. The metric carat was introduced in the United States in 1913 and other countries began to adopt its use soon after that.
But while carat weight is an important consideration, it should never be the sole deciding factor when purchasing diamonds. as it does not dictate the beauty of a diamond. If a diamond is cut well, it can be as much as 20% larger (have more spread) and be far more dazzling than a poorly cut diamond of the same weight.
If a large carat weight is important to you however, remember that diamond prices increase at full and half carat weights. So if you're buying on a budget, selecting a diamond that is just below those weights will significantly reduce your costs and the small size difference that's involved will be almost impossible to detect.
At Australian Diamond Brokers, we select our diamonds for their overall beauty, taking into consideration all of the 4Cs; their colour, clarity, cut, and carat weight. We have a wide range of diamonds and gemstones at a variety of price points, allowing you to select a stone that's perfect for your taste and budget. And if it's a big impressive rock that you're after, we can find you the perfect balance between size, weight, and visual appeal.
Learn more about the official GIA description of carat here.
Australia's trusted diamond experts
Ever since 1977, when we first opened our doors in Sydney, Australian Diamond Brokers has been helping Australians and overseas visitors source high quality diamonds to suit their taste and budget. And because we adhere to the Kimberley Process and only deal in conflict-free diamonds, you can buy from us with confidence, knowing that all our diamonds are ethically sourced from trusted suppliers.
Call and book your obligation-free consultation with us and you can be assured you will be treated with the utmost integrity, discretion and care. We make every effort to ensure that every customer's buying experience is an informative, enjoyable and memorable one.
We wish you to be totally happy with your buying decision and when you talk to our experts, you'll soon see why Australian Diamond Brokers is the preferred provider for so many buyers.
Come and browse our exclusive range
We're excited to show you our exclusive diamond range and we look forward to helping you find the perfect stone for yourself or your loved one.
Our showroom is in the heart of the Sydney CBD, between Chanel and Bvlgari at 70 Castlereagh Street, opposite the MLC Centre. We invite you to call in and see our range any time between 9am and 5pm from Monday to Friday or you're welcome to book a personal consultation between 5pm and 7pm on Thursday evenings and 10.30am to 3pm Saturdays. You can also give us a call any time during business hours on 02 9232 2328.
We're quietly confident we have the diamond you're looking for and we look forward to meeting you soon and discussing your needs at Australian Diamond Brokers, the diamond experts you can trust.
Find the perfect diamond for you on our diamond search.